Unified Payments Interface (UPI) has revolutionized the digital payment system in India. As per the National Payments Corporation of India (NCPI), more than 7.8 billion transactions were made via UPI payment gateway in the last six years. Today, it has become a big part of our daily transactions, from wiring money to loved ones or paying merchants and utility bills. UPI is quickly becoming one of the most preferred payment modes in India.
What makes UPI payment gateway a crowd favorite in payment modes?
Whether it is day or night, you can instantly transfer money from anywhere.
Your UPI ID is like secure location coordinates for your money as opposed to bank account details.
Its double-layered security – mobile device PIN and UPI PIN – makes transactions extra secure.
While UPI is a safe mode of payment, as the technology evolves, so do the security threats around it. To keep your money from falling into the wrong hands, the Reserve Bank of India (RBI) talks about new forms of fraud and ways we can stay safe from them. Toward this, NCPI has launched an awareness campaign called UPI Safety Shield to protect digital transactions in India.
What is UPI Payment Gateway Safety Shield?
NPCI introduced UPI Payment Gateway Safety Shield to educate consumers about safe UPI usage. These five safety tips can help you protect your money and personal information from fraud and unauthorized access.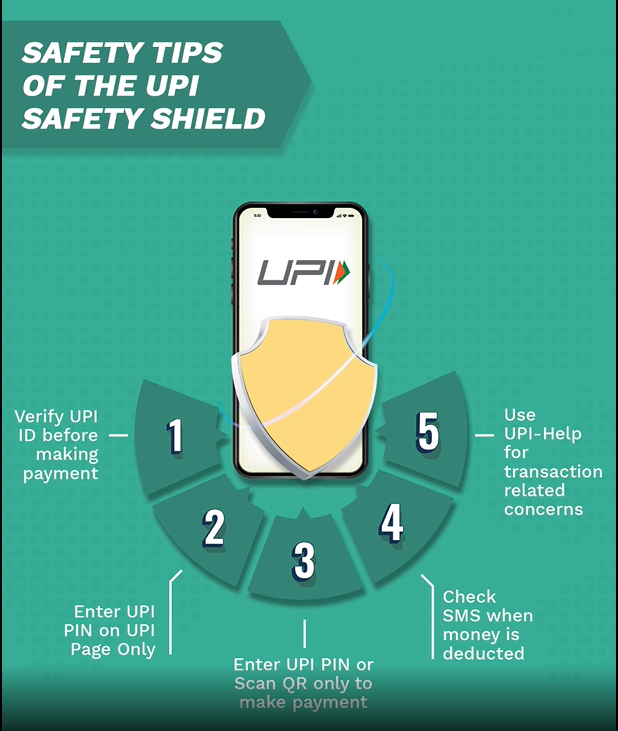 1. Always verify the UPI ID of the person before making a payment
UPI ID is a unique identifier that can be shared with anyone to receive money. Whenever you are paying someone via UPI, make sure you verify their UPI ID before making the payment. This ensures you only send money to the people intended.
2. Enter UPI PIN on the UPI PIN page only
UPI ID and UPI PIN are two different things. Your UPI PIN is the most important security measure to protect your transactions. Never share your UPI PIN or OTP with anyone. And make sure you enter your UPI PIN on the UPI PIN page only.
3. Enter PIN = Money deducted
Always remember, you don't need to enter your UPI PIN/password or scan a QR code to receive money. If someone asks you to do so, it is a red flag, and you need to cancel the transaction immediately.
4. Always check SMS alerts after transactions
After every transaction, you will receive an SMS from your bank confirming the amount credited to or debited from your account. You should always verify the amount and notify your bank if it is correct.
5. Rely on the help section in the UPI app
If you face any transaction-related issues, you can use the help section within the UPI app itself. The NPCI has trained experts who are available 24×7 to assist you with any concerns or issues regarding UPI transactions.
Stay aware. Stay safe.
UPI Payment Gateway Safety Shield is a great initiative by the NPCI to ensure users have a safe and secure payment experience. RBI kehta hai, taking these few simple measures can help you steer clear off of scams.