What Is A Startup?
Startups are new businesses set up by one or a group of individuals. There could be two reasons to create a startup:
To offer a new idea or product and no one else has the copyright/patent on it previously
To redevelop existing products or facilities in innovative ways
If you are planning to start your venture, these questions might bog you down:
Do you have to register the startup if it is in the nascent stage?
Is registration required for startups that offer legal, agricultural, or technological services?
The answer to these questions is yes. As per India startup basic guidelines, you should register your venture under the "Startup India" scheme to avail various government benefits. These advantages include tax exemptions, easier compliance, and other types of assistance.
Who can register for startup India?
Under the "Startup India" initiative, an organization needs to meet certain prerequisites to be called a startup. To make your company considered as a startup by The Department for Promotion of Industry and Internal Trade (DPIIT), your organization:
Has got registration as a private limited company or a partnership firm.
Its total turnover is less than INR 100 crore for any of the financial year.
The entity is working towards innovation in products/services and has the potential to generate employment.
It will be considered a startup for only up to 10 years from the date of registration.
If your venture meets the above criteria, register it with the DPIIT.
How to get your startup registered?
The Indian Government has simplified the process of startup registration. Below are the processes and steps involved in registering a startup with DPIIT: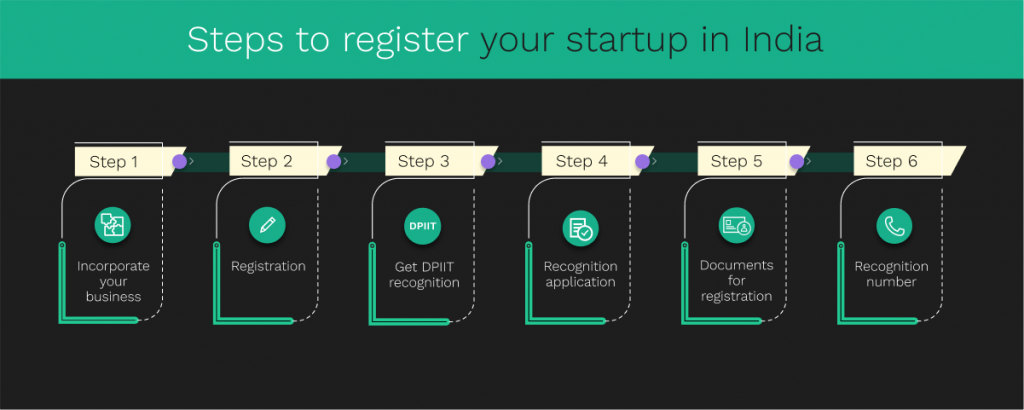 Integrate the business: 
Determine if the business will be integrated as a private limited company or a partnership firm. Once confirmed, gather relevant documents like certificate/partnership registration, PAN, etc.
Readmore: How to Get a e-pan in India
List with startup India: 
The registration process is entirely online on the Startup India website. Provide the relevant business details over there like operator, title, startup stage, etc., and start applying under the incubator and mentorship programs. That's not enough post-approval, the startups will be entitled to various central government schemes, favorable state policies, and pro bono services.
Acknowledgment from the Department for the Promotion of Industry and Internal Trade (DPIIT): 
On successful creation of profile, startups receive recognition from DPIIT. The recognition received is quite important as it allows startups to avail benefits like:
Access to quality intellectual property services and resources
Influence on procurement rules
Self-certification under labor and environmental law
Easy business closure
Tax exemption for three consecutive years
Tax exemption on investments above market value
Access to funds of funds
These benefits help startups in charting a path towards success and value creation.
Application for recognition:
For this, business owners can visit the "Startup India" website and toggle to the "recognition application detail" page. Here, they can fill in the required details in the "startup recognition form" and submit it.
Documents Required:
If you want an organization acknowledged as a startup, then you need the following documents:
Startup registration certificate
Executive details
Concept evidence which can include internet site link/video 
Details of patent and trademark, if any
PAN number of the registered organization
Recognition number: 
The organization receives an acknowledgment number immediately on successfully registering online. Verification of all the official documents is complete within two days, and the organization receives a certificate of recognition if everything is in order.
Note: It is vital to upload all the documents correctly and cautiously. Uploading false documents or forgetting to add documents may lead to a penalty of up to Rs 25,000.
Self-certification:
For organizations to self-certify, the conditions are as follows:
The organization holds the title of a private limited company, LLP or a partnership firm.
The business has got registration in India for a minimum of five years in operations.
The business is innovative and improving the existing system. 
At last, the annual turnover of the business is not more than INR 100 crores.
Conclusion
The Government of India has pushed for the growth of startups in the past decade. Various business-friendly policies created by the government have led to the rise of startups in varied fields.
These startups have helped to bridge the gap between people from different financial backgrounds through their innovative ideas. They have provided employment opportunities to thousands of people, making a big impact on society in the process.
The registered startup can grow its business by collaborating with OKPAY India. We are a one-stop shop for your payment gateway solutions for websites and apps. We offer the best success rate for all payment options, along with 24*7 support and a custom checkout experience. Contact us today to write the next growth chapter of your journey.